DJ Fo Skintley: DJ, MC, experienced programmer and effects master. Here the member of Seattle-based musical collective KrispyKon makes his solo debut, spinning tales and spitting rhymes on everything from the superficiality of modern rap to how St. John spends his spare time to the illustrious Senor Trenchcoat. Incorperating elements of hip-hop, electronica and alternative rock only as only he can, Skintley's smooth lo-fi beats will entertain and entice ducks.
Two ways to buy:
Order physical version from Frostbite Studios online shoppe
Physical version includes:
-Full Cornbread album
-Bonus second disc "Meatloaf: The Mixtape"
-DJ Fo Skintley LEGO figurine
Price: $10.99 + $2 shipping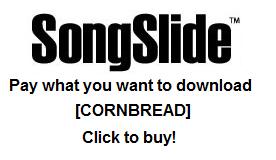 1 Mixtapes
2 Chicken Abortion
3 Arch of Headband [feat. KrispyKon]
4 Church Bells
5 The Despair of Edgar Sharware
6 Ode to a Lumbersquiggle
7 Senor Trenchcoat [skit]
8 Rock It Out [feat. KrispyKon]
9 Mike Lobotomy
10 Premonition [feat. KrispyKon]
11 Something to Say
12 Cornbread
13 Skintley Symphony
B. Classical
A. Rock
C. Hip Hop
O. Electronic
N. Other
You can also buy:

> Cornbread bonus version (CD)

> Greenwash (CD)

Buy together to save earth moneys!

Bundle price: $21.99
You will enjoy this album if you like the following artists:
Primus
Les Claypool
MF Doom
DangerDoom
Danger Mouse
Red Hot Chili Peppers
Rage Against the Machine
Gorillaz
Blur
Ben Folds